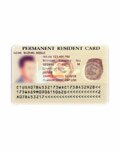 How Valentini Law Offices can Benefit You: With an impressive number of approved adjustment of status cases under our belt, we have them down to an art. We work with our clients to suggest and evaluate evidence in order to ensure building the strongest possible case. We process all government forms and review multiple times to ensure accuracy. We walk you through the process from start to finish and keep you up to date with all case developments. In our experience with numerous scenarios for adjustment of status, some being more complicated than others, the beneficiaries of our adjustment of status petitions generally receive their green cards within a few months.
Adjustment of status is available to aliens who are already in the United States and are eligible to change their status to that of a lawful permanent resident without leaving the country. All petitions for adjustment of status should be filed while the alien is maintaining lawful presence in the US. There are limited exceptions to this rule that our attorney would be happy to discuss.
Schedule a consultation with a New York Asylum Lawyer
Valentini Law Offices, PLLC
phone: (212) 213-8275
61 Broadway, Suite 2505, New York 10006
(by appointment only)
There are usually two parties in any adjustment of status application: the petitioner and the beneficiary. The petitioner can be an individual (U.S. citizen relative or lawful permanent resident relative) or a company (in cases of employment based petitions).
While numerous combinations exist, possible adustments of status scenarios are as follows:
H-1B to Employment Based Lawful Permanent Resident Satus (green card)
H1-B to Family Based Permanent Lawful Resident Staus (green card)
L-1 to Family Based Lawful Permanent Resident Status (green card)
B-1/B-2 to Family Based Lawful Permanent Resident Status (green card)
Visa Waiver Status to Family Based Lawful Permanent Resident Status (green card)
J-1 of F-1 (not subject to two year residency requirement) to Family Based Lawful Permanent Resident Status (green card)
There are a number of factors which can work to significantly delay an adjustment of status case or even result in a denial of an otherwise approvable petition. Many of these are minor details which can be easily anticipated and avoided. This is why it is best to choose an immigration attorney who has experience with adjustment of status applications and is aware of all necessary requirements.
Through our experiences working with clients, we have been told numerous stories regarding the ways their particular cases have gone wrong. These details can be as minor as method of payment to something more substantial such as failing to provide adequate evidence to support the petition. It is unfortunate that in many of these cases, even where an error was committed through no fault of the applicants, it is necessary to pay additional government and/or attorney fees to rectify the situation. Deciding to retain a responsible immigration attorney to work on your case the first time minimizes the chances of your application being delayed by many years or denied altogether.
Tweet