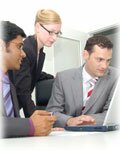 How Valentini Law Offices Can Benefit You: We welcome both employers and employees to contact us to discuss immigration options, including but not limited to H-1B visas for skilled workers, that best suit your unique situation. For employers, we come up with the fastest way to bring foreign hires to the US. For employees, we devise a strategy that would allow them to advance their career in the US while keeping the door open for eventual transition to permanent residency.
What is an H-1B Visa?
The H-1B visa is a non-immigrant visa that allows a qualified alien worker with a minimum of a bachelor's degree to temporarily (up to 6 years) be employed in the US by a sponsoring employer. A qualified alien worker can bring his dependants (spouse and children) to the US. Examples of workers we've successfully represented in H-1B applications include computer programmers, scientists, researchers, engineers, architects, lawyers, physical therapists, economists, financial analysts and fashion designers.
Schedule a consultation with a New York H-1b lawyer
Valentini Law Offices, PLLC
phone: (212) 213-8275
61 Broadway, Suite 2505, New York, NY 10006
(by appointment only)
To qualify for an H-1B visa, an alien worker can be employed either part-time or full-time. It is not a violation of alien worker's non-immigrant status to be on vacation, on sick, maternity or paternity leave. An alien worker on an H-1B visa may travel outside the US, for business and pleasure, and safely re-enter the country.
LCA as a Part of an H-1B Visa Application
The process of applying for an H-1B visa is very complex and best handled by an immigration lawyer. An H-1B visa application starts with a labor condition application (LCA), which must be certified by the Department of Labor (DOL). LCAs are currently being accepted electronically. LCAs may be submitted by an attorney on behalf of the petitioning employer. LCAs are no longer being certified instantly and it takes about 7 days to get a certified LCA from DOL.
One of the main requirements of the LCA is a declaration made by the employer to pay at least the prevailing wage for the offered position as it is determined by an appropriate wage source for the specific geographic location of employment. To achieve this, the offered position must be correctly categorized and identified by an attorney preparing an H-1B application. This is done through careful analysis of the job description and job requirements. There is a three-digit occupational code which corresponds to a particular field, as well as a six-digit North American Industry Classification System (NAICS) code which defines an occupation within a given industry.
In addition to the certified LCA, an integral component of an H-1B visa application is the letter of support endorsed by the petitioning employer. This letter seeks to establish that the alien will indeed be employed in a specialty occupation and that the alien is qualified for the position offered. An experienced attorney drafts this important piece of evidence in a way that conveys a correct and convincing message to USCIS adjudicating officers.
H-1B Cap
Congressionally-mandated cap on the number of H-1Bs that can be approved per fiscal year is currently set at 65,000. There is an exemption from this cap available for aliens who have earned a Master's or higher degree from a university in the United States. This exemption is limited to 20,000. Also, some petitioning employers are exempt from all numerical limitations. Examples of these employers are: certain institutions of higher education, nonprofit entities related to or affiliated with institutions of higher education, nonprofit research organizations, and governmental research organizations.
H-1B Quotas and Deadlines
There are strict filing deadlines for H-1B visa petitions which all cap-subject applications must adhere to in order to be considered. The fiscal year begins on October 1 and the employment start date can be no earlier than this. So if a petitioner requests an October 1 start date, the application must be submitted on or after April 1. Due to an increasingly high volume of H-1B filings, each year the cap is filled closer and closer to the first day on which cap-subject applications are accepted. While there were years when H-1B quotas would open and close on virtually the same day to a high demand, in 2012 (FY2013) both H-1B quotas were open until June. We at Valentini Law Offices predict that for FY2014 H-1B quotas would be reached in the very beginning of April 2013.
On June 11, 2012 USCIS announced that both H-1B visa quotas have been reached. This came as no surprise to us at Valentini Law Offices. For the first time in four years, both H-1B quotas were reached in less than one fiscal quarter, turning the H-1B visa quota into a barometer for our recovering economy.
FY2014 H-1B Application Process Starts on April 1, 2013
USCIS will start accepting H-1B visa applications for FY2014 on Monday, April 1, 2013. If an H-1B application is approved, a foreign national employee is authorized to start working in the US at the start of the fiscal year, on October 1, 2013. Optional Practical Training (OPT) status holders might be eligible for a "Gap Cap." It would allow them to continue their work in the US beyond the expiration of their OPT and before October 1, 2013.
Since the H-1B quota for FY2014 will not remain open for long, eligible foreign workers and their US employees are advised to immediately contact Valentini Law Offices to start H-1B application process.
H-1B Lawyer Answers FAQ
If I am granted an H-1B visa, would my spouse be allowed to work in the US?
If you are granted an H-1B visa, your spouse would get H-4 non-immigrant status in the US. This status, however, does not authorize your spouse to work in the US.
I received a part-time job offer. Does such offer qualify me to apply for an H-1B visa?
Yes. A part-time employee who meets underlying H-1B visa requirements qualifies for an H-1B visa.
I received an offer to work as a sound engineer in one of California-based film studios. I am not able to wait for an H-1B quota to open up in April since the studio needs me ASAP.
Depending on your credentials, you might qualify for an O-1 visa. Over the years, we've successfully represented film directors, sounds engineers, actors and other professionals in their O-1 visa applications.
I am currently in the US in OPT status. My employer hasn't hired any H-1Bs before. They are curious as to when in the year they should start my H-1B visa application process.
Generally speaking, H-1B quota opens up every year on April 1. FY2014 H-1B visa quota will open up on Monday, April 1, 2013. We predict that it will likely open and close within the same week due to a very high demand. It is a good idea to start an H-1B visa application process as early as January or February.
I received a job offer from a small startup company, can I get an H-1B visa?
Yes, but small companies are usually subjected to more scrutiny from USCIS and DOL than large corporations.
A friend of mine told me that ICE came to his office to check on a bunch of H-1B applications his company had filed for their new employees. If my employer applies for an H-1B visa on my behalf, should we also expect a visit from ICE?
ICE might visit your company for what's called a "site visit". If such visit takes place, it is a good idea to immediately notify an immigration lawyer who prepared your H-1B application. Stay calm: if you and your company haven't provided any fraudulent information to USCIS and DOL, you have nothing to worry about.
How do I start my H-1B visa application?
You could start by contacting H-1B Lawyer for a consultation. When coming in or calling in for a consultation, please make sure to bring in or email us your resume, US visa passport page, I-94, company brochure or company website printout and a job offer letter.
Tweet